RiekMedia Development
Welcome to the website of RiekMedia Development. As the name suggests, I deal with programming. Currently I support the gaming CMS Azuriom and develop plugins for it.

Just visit us on our Discord server if you have any questions or become part of our community.


Latest News
Our plugins
Join Discord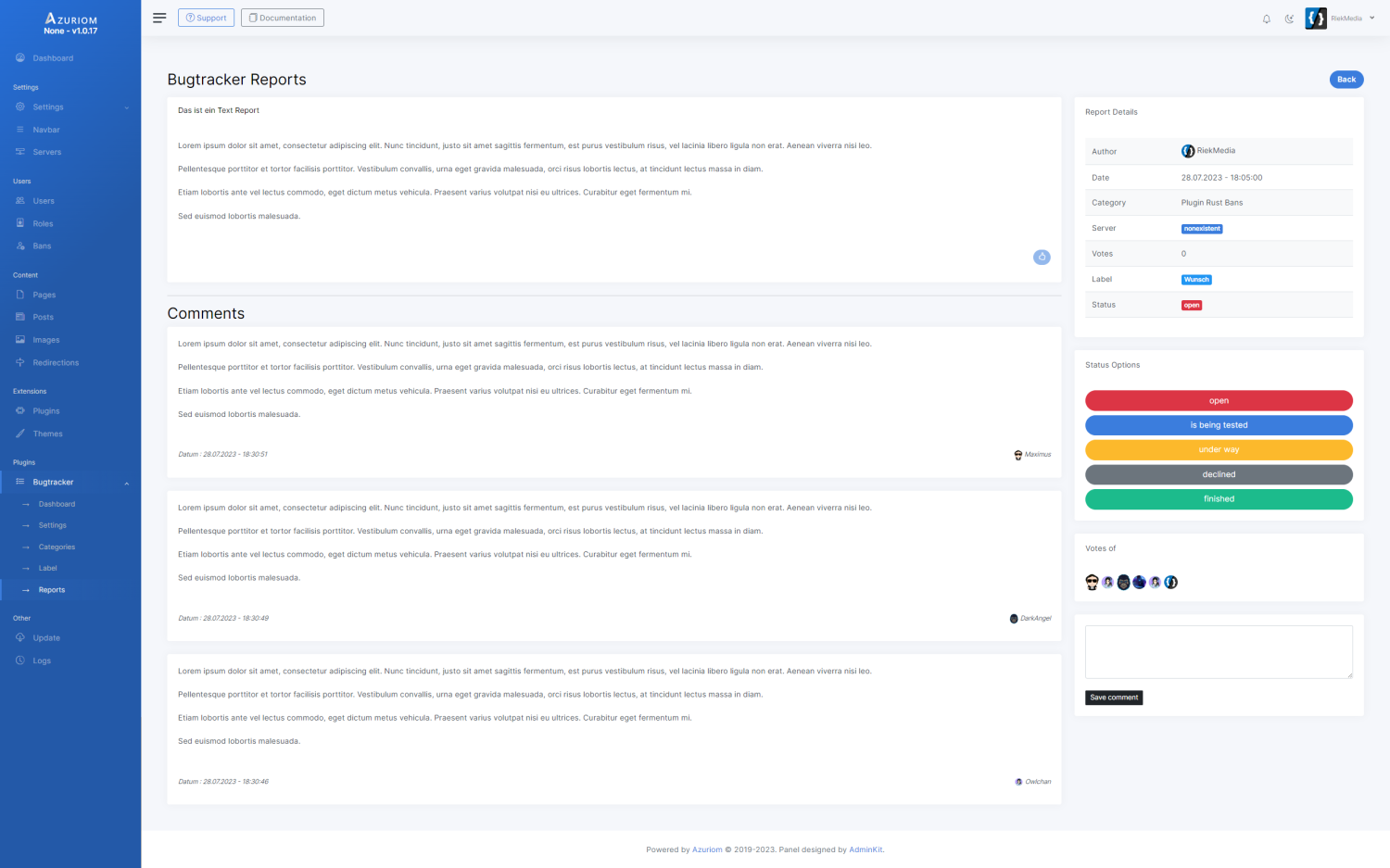 Plugins development
Our plugins are developed specifically for the Azuriom community and made available there in the marketplace.
Modern and on current technology
Azuriom is based on the current Laravel framework as well as our plugins.
24/7 Supoport
We offer 24/7 support via Discord and through our ticket system for our plugins.
Our plugins at a glance
Here you can see a list of our current plugins for the Azuriom CMS. And we are constantly adding new ones.
106 Downloads

7 Community Likes
1119 Downloads

6 Community Likes
595 Downloads

4 Community Likes
What is Azuriom?
Azuriom is a CMS which was primarily developed for gaming websites.
Is Azuriom for free?
Yes, the Azuriom CMS is completely free and open source and is licensed under the GPL.
Are the updates free of charge?
Yes, for all plugins developed by us we do not charge any further update fees. These are included free of charge.
Which games are supported?
Azuriom is primarily a Minecraft CMS. But it also supports other games such as Garry's Mod, Ark, Rust, FiveM, CS:GO, Team Fortress 2.
Would you like to take a look at Azuriom?
Then just take a look at Azuriom yourself and get your own impression of the CMS.
Website
Community Discord
Visit our Discord server and become part of our community. We help each other with problems.